The stickers look like the ones that appear on the luggage trolleys you see at some stations, or go on posters as they are about 12" wide. There were some different colours amongst the stack, so, having sourced a man with some rope, the spanners are not needed, the sign at Reichenau is held up with wire, I now need a locksmith.
2nd Feb
Last day, yet more snow, the MGB was shut all day between Tschmut and Andermatt due to avalanche danger.
I see the temperature in this area is set to rise over the next few days, given that today's snow has been persistent and very fine I can foresee problems over the Albula, Bernina and Engadine.
Keep an eye on the map.
http://fahrplan.sbb.ch/bin/help.exe/dn? ... p_external
I see Austria is also having snow problems.
Today I did the walk from Trin to Reichenau, officially shut, but the footprints in the snow suggest otherwise. It is the better way to do it, I stopped frequently for photos and at Reichenau to photo trains going over the Rhine Bridge. It took about 90 minutes. At Reichenau you have frequent services to several destinations as opposed to the one an hour at Trin. Trin station appears to be unoccupied, the former goods shed area has nothing in or around it. The station control panel is still intact. Trin has, at the Disentis end, a stack of short pieces of rail, the first one on the top is dated 1895.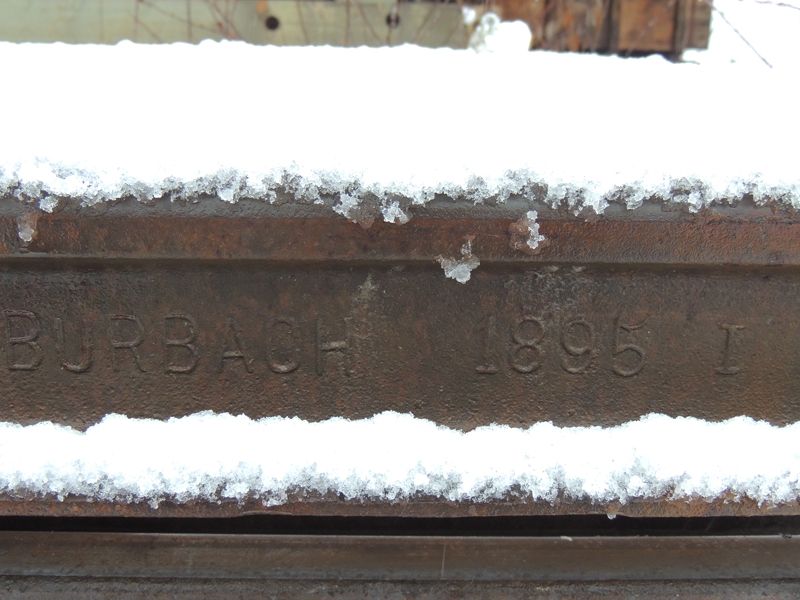 Also,behind the rails is an 'Ikea' flat pack bridge kit. along with a load of wooden boxes dated 1936 and later, two are open, one contains some industrial size 6" long nut and bolts,
the other contains what look like the business end of a 20mm armour piercing shell.
I think these might be rivets for the bridge, I'll try to remember to post a photo in the coming days. There was also a nice antique wooden trolley.
The walk itself is pretty easy with only one serious 'up' but even that isn't too bad. The path is mostly next to the railway line and you can hear the trains coming early enough to find a good vantage point.
Sadly, just as the Glacier Express liveried Ge4/4III crossed the Rhine Bridge my camera battery went 'splut' so I missed it, my camera couldn't have timed it better.
613 and 627 were still working as a pair on the Chur to St Moritz run, Be515 was on a Rhazuns to Schiers diagram.
Last night they passed through Filisur with :
WR3812, Bp2521, Api1304, A1267, A1235, B2368, B2349, B2383, DS4225, B2308, B54108, B2302, B2304
Somewher in one of the industrial plants, either the A&G recycling centre or the Crea Beaton cement works next door, is a grounded van body, possibly a Gbk-v, it bears further investigation when the access gates are open.
While at Kueblis in the afternoon 647 came trundling through with BDt1722 heading for Landquart.
Trains on the Landquart to Davos line where strengthened mostly with a Pano car, in conjunction with a hockey match at Davos. 623 was taken off the stock forming the 1349 LQ-ST and replaced with 3503. alongside, 1347 to Davos Platz had Bp52522 I think, added to the consist. the next working was : 3501, Bp2532, A1250, B2353, B2428, B2367
I took a photo of Xak91501 at Davos Platz, it appears to be a transporter wagon, I'll be checking Haribu's list to find out if I'm right.
hmm, google translate says Podestwagen 'pedestal dare' Will get the books out when back home.